TOWN COUNCIL

MEETING MINUTES

LISBON TOWN HALL

february 16, 2021

Normand Albert 2021

Kasie Kolbe 2021

Allen Ward 2021

 Mark Lunt 2022

Donald Fellows 2022

Jeffrey Ganong 2022

Fern Larochelle 2023
CALL TO ORDER.  The Vice Chairman, Donald Fellows, called the meeting to order and led the pledge of allegiance to the flag at 7:00 PM.
ROLL CALL.  Members present were Councilors Ward (arriving at 6:09 PM), Albert, Kolbe (arriving at 6:20 PM), Lunt, Larochelle, Ganong, and Fellows.  Also present were Diane Barnes, Town Manager; and one citizen (Kevin Kimball) in the audience.
EXECUTIVE SESSION
VOTE (2021-31) Councilor Fellows, seconded by Councilor Albert moved to go into Executive Session at 6:07 PM per 1 MRSA Section 405 (6) (A) Personnel Matters.  Order passed – Vote 5-0.
The Council came out of executive session at 7:08 PM and the meeting resumed.
GOOD NEWS & RECOGNITION - NONE
PUBLIC HEARING
<![if !supportLists]>A. <![endif]>medical marijuana establishment permit for
bbb pharmaceuticals, llc
Councilor ward opened the public hearing.  The public was invited to comment by emailing award@lisbonme.org; no comments were received. The Chairman closed the public hearing.
AUDIENCE PARTICIPATION & RESPONSE FOR AGENDA ITEMS
Kevin Kimball offered comments on the Proposed Road Closure Plan for Moxie Plaza.  He said that he is entirely pro-restaurant and pro-pub.  He has decades of experience as both a working musician and music festival promoter and feels they are essential to a communities vitality.  He said he wanted the businesses to not only succeed, but to thrive as well.
Mr. Kimball explained Plan A or full closure:
<![if !supportLists]>1. <![endif]>Adversely effects a majority of directly affected businesses
<![if !supportLists]>Ø <![endif]>Businesses along the affected portion of Main Street have reported to the Council significant and in some cases catastrophic loss of revenue as a direct result of last year's closure. 
<![if !supportLists]>Ø <![endif]>Those same businesses have also reported that their respective revenues have bounced back to near normal levels, only after the closure had ended. 
<![if !supportLists]>Ø <![endif]>Other businesses have reported the same kind of losses to friends and neighbors, but are reluctant to bring those complaints to the Council for fear of rocking the boat.  They are just trying to survive. 
<![if !supportLists]>o <![endif]>He explained this is anecdotal, but no less real and silence does not imply consent in this case, it tells of fear.
<![if !supportLists]>2. <![endif]>Adversely effects traffic flow
<![if !supportLists]>Ø <![endif]>It is well documented from last year that five minute bridge crossings from Durham turned into 45 minute ordeals. 
<![if !supportLists]>Ø <![endif]>Traffic on Route 196 approaching from Topsham frequently came to a dead stop east of Summer Street, precluding even the option of a detour. 
<![if !supportLists]>Ø <![endif]>Traffic congestion increased difficulty for Emergency Vehicle passage. 
<![if !supportLists]>3. <![endif]>Adversely effects surrounding businesses:
<![if !supportLists]>Ø <![endif]>Traffic backups regularly and daily, preventing customers from entering or exiting local businesses on Rte. 196. 
<![if !supportLists]>4. <![endif]>Adversely effects traffic safety:
<![if !supportLists]>Ø <![endif]>Residents and travelers on 125 who intended to drive East on Route 196 no longer had the safe option at the traffic light at the intersection of Route 196 & Route 125. 
<![if !supportLists]>o <![endif]>They had to instead choose either turning into oncoming traffic coming over a hill at the intersection of Summer Street and Route 196, without the benefit of the traffic light, or accessing Route 9 and using the traffic light at the intersection of Route 9 and Route 196, then going through two additional traffic lights on their journey. 
<![if !supportLists]>Ø <![endif]>Positive effects of full closure were limited to only two businesses and primarily only one.
<![if !supportLists]>Ø <![endif]>It has been proposed that a four way stop at the intersection of Union and Main Street, plus additional signage will ameliorate the impact of a full closure. 
<![if !supportLists]>o <![endif]>Mr. Kimball said that he and residents that he has chatted with cannot figure this one out and do not see it as a solution. 
Mr. Kimball said shutting down a community's main thoroughfare for a special one-day event is a long-standing common practice, especially during the summer season.  The residents generally accept the inconvenience, as long as it's brief, short lived and contributes to the greater good of the affected community.  Shutting down a community's main thoroughfare for a whole season is an entirely different matter.  The inconvenience is no longer brief and quickly becomes a burden.  The greater good diminishes rapidly and at best exists only for one or two days out of seven.  The question then becomes, is this worth the other five days of distress especially if the benefit is restricted to so few.
Mr. Kimball explained Plan B or Partial Closure:
<![if !supportLists]>1. <![endif]>Mitigates the adverse effects of full closure on the majority of directly affected businesses:
<![if !supportLists]>Ø <![endif]>Businesses adversely and directly affected by last year's full closure now have near normal storefront visibility otherwise denied them by full closure. 
<![if !supportLists]>2. <![endif]>Mitigates the adverse effects of full closure on traffic flow: 
<![if !supportLists]>Ø <![endif]>It restores near normal traffic flow, alleviates abnormal congestion and restores normal access for emergency vehicles.
<![if !supportLists]>3. <![endif]>Mitigates the adverse effects of full closure on traffic safety:
<![if !supportLists]>Ø <![endif]>Restores the safety of the traffic light at the primary intersection. 
<![if !supportLists]>4. <![endif]>Mitigates the adverse effects of full closure on surrounding businesses:
<![if !supportLists]>Ø <![endif]>Surrounding businesses retain normal customer access in and out of their respective parking lots. 
<![if !supportLists]>Ø <![endif]>Retains, albeit to a lesser degree, the positive affect on the two businesses and primarily one business that benefit from full closure. 
Mr. Kimball said that he is not singling out any one business, because respectfully the Town has done just that.  He said it did so with last year's full closure.  He added he has no reason to believe that the Town did what they did with anything but the best and most honorable of intentions.  The town responded to the unprecedented exigencies of a worldwide pandemic.   It was truly a creative best effort, but the effect was demonstrably one of putting the thumb on the scales, however innocently, the effect is at least as important as intent.  He acknowledged that what we know now to be true with hindsight is very clear.  Do we choose the option that has been unmistakably demonstrated to be one that benefits the few at the expense of many or do we choose the more well-planned option that renders the most benefit to the many with the least detriment to the fewest.  Partial closure is the fairest most equitable solution.  The facts are established and there is no nuance. 
Councilor Ward pointed out that the decision to go with Scenario A or B had already been determined on January 19 pending approval of the closure plan before Council at tonight's meeting.  Mr. Kimball informed Council that he would have been present to participate at the previous Council meeting, but he didn't have zoom capability and that zoom is not the same as appearing in person.  He said he would have been in attendance if that were possible. 
Councilor Albert pointed out that there are no facts for the Council to consider with Scenario B, not that Council made the right choice going with Scenario A, but he explained that without a doubt Council took into consideration the facts for Scenario A.  He said not all the Councilors fell on the same page, but the vote ended up with Scenario A over B.  We know what we have done and what did not work. He said we are prepared to prop up all the businesses on Main Street.  We did not know what the challenges would be with Scenario B and did not know for sure how that would work out.  He mentioned that next year this part of Main Street will be under reconstruction and closed again.  He questioned how we would make that work.  He pointed out that residents may find a way to get around and know they still can access this area next year with the construction going on. 
PUBLIC COMMENTS:  Councilor Ward said he received an email from T.C. Conroy as follows:
Greetings to the Council.  I would like to ask the Council how often they frequent Franks and or Flux.  As a member of a decision making board of the Town in the past, it is my understanding that any personal feelings or otherwise vested interest in a topic or decision should state their opinions and then abstain from voting.  Abstaining from voting on issues that has personal interest and/or beliefs keeps the integrity of the Council.  When someone opts to pave way to friends businesses against the better of the good, the majority and integrity is lost and the Council is seen as a bullish child.  Playing music in the plaza as a member of a band is a reason one should abstain from making a decision that has been opposed by the majority of area businesses.  The integrity of our town employees backing this makes the town look rather ignorant to the greater good of all.  Businesses that have opposed this from the start have been sharing their concerns on deaf ears and will affect the town paying lost revenues for those adversely affected.  Putting together a nice list of events to offset the plaza is a great distraction from the problem at hand, especially since other larger activities across the State and Country are already being cancelled. T.C. Conroy.
Councilor Ward said he appreciated him taking the time to express his view.  He indicated he received one more email from Donald Rivard asking for impact on a safety study.  Councilor Ward said he also has the same question and that he plans to address that when the agenda item comes up later tonight.         
VOTE (2021-32) Councilor Larochelle, seconded by Councilor Kolbe moved to approve the following:
<![if !supportLists]>A. <![endif]>Municipal Accounts Payable Warrants $170,030.42
<![if !supportLists]>B. <![endif]>Municipal Payroll Warrants - $145,160.33
<![if !supportLists]>C. <![endif]>School Accounts Payable Warrants - $ 70,122.77
<![if !supportLists]>D. <![endif]>School Payroll Warrants - $ 727,387.90
E. Minutes for February 2, 2021
F. Medical Marijuana Establishment Permit for BBB Pharmaceuticals, LLC
Order passed - Vote 7-0.
COUNCIL ORDERS, RESOLUTIONS, & ORDINANCES
POLICE DEPARTMENT REIMBURSEMENT FROM THE FALMOUTH POLICE DEPARTMENT
AND
APPLICATION TO THE PATRICK LEAHY BULLETPROOF VEST PROGRAM
INTRODUCTION:  Chief McGee said the Lisbon Police Department recently lost Officer Kristopher Kauffman who left to go to the Falmouth Police Department for better pay and benefits over Lisbon PD.  His last day of work was on 01/30/2021.  Because Officer Kauffman left within two years from graduating from the Maine Criminal Justice Academy (MCJA), the Falmouth Police Department must follow policies put in place by the Maine Criminal Justice Academy Board of Trustees.  These rules include the Consumer Price Index from Urban Consumers-Northeast Region for reimbursement of officer's training that goes to the Lisbon Police Department, because we are the agency that sent the officer.  We requested Falmouth reimburse Lisbon $32,480, the rate set by MCJA for training, plus a reimbursement of $700 for his 2-year old ballistic vest that he took with him.  The total cost of reimbursement to the Lisbon Police Department will be $33,180.
Chief McGee reported the police department moved forward in hiring a new officer to replace Officer Kristopher Kauffman; that officer will start on February 8, 2021.  We are requesting permission to utilize these reimbursement funds, once received from the Falmouth Police Department, to offset training and equipment costs for the newly hired officer, and other training requirements for this upcoming budget.
Chief McGee said the police department would like to apply the remaining funds to purchase bulletproof vests for the officers at the department.  Their current vests have a life span of 5-years, and it was in the Capital Improvement Plan to replace them this year since they are expiring.  Not only would this allow us to replace the bulletproof vests for officers in the department, but it would also allow the Chief to remove a needed cost on our Capital Improvement Plan in the upcoming Fiscal Year budget, resulting in a reduction to their overall budget.  Any remaining money, he requested authorization to use towards our continuing update of the department's outdated portable radios.  This would further reduce any funds in the upcoming budget for radios.  Funds to be spent are as follows:
Bullet Proof Vests $14,000
Portable Radios $13,500
Police Academy $  3,500
Uniforms $  2,180
$33,180
Chief McGee also requested Council approval to apply to the Patrick Leahy Bulletproof Vest partnership program through the U.S. Department of Justice for funding, and if approved those funds would pay a percentage of the Bullet Proof Vests further reducing the cost that the town spends. 
COUNCILOR COMMENTS:  Councilor Larochelle said this is a need, not a want.  He said he was in favor of using funds we already have.  Councilor Ward questioned whether using existing funds would be in compliance with the charter and suggested tabling the motion until a legal opinion could be obtained regarding the approval process. 
VOTE (2021-33A) Councilor Larochelle, seconded by Councilor Fellows moved to authorize the Town Manager and Finance Director to setup a Police CIP and receipts $33,180 from the Town of Falmouth for the purpose of spending the funds on new equipment, training and new uniforms for the new hire, and authorization to solicit bids and accept funds through the Patrick Leahy Bulletproof Vest partnership program to help offset the cost of new vests.
Councilor Ward recommended a friendly amendment to make the motion pending legal Counsel's approval of the process. 
AMENDMENT #1:  VOTE (2021-33B) Councilor Larochelle, seconded by Councilor Fellows moved to add, "as long as it fits within the budget and requirements of the charter." Amendment Voted - Order passed - Vote 7-0.  Main Motion as amended Voted - Order passed - Vote 7-0. 
INTRODUCTION:  Mr. Richardson reported that planning is underway to create safe outdoor opportunities for the community to gather during summer 2021 and to create a warm weather event series to attract visitors to Lisbon.  On January 16th the Lisbon Town Council approved the adjustment of the traditional Moxie Festival Coordinator position to support a broader summer event series and on February 2 the Council voted to support the closure of Main Street during the coming summer in order to enable outdoor dining, events, and markets in improved "Moxie Plaza."  To address concerns about the 2020 Main Street closure and to demonstrate design improvements developed with robust community input over the last several months, Council requested a plan.  He indicated this plan included lots of input from Lisbon's Parks & Recreation, Public Works, Police, Fire, and Library Departments, and numerous community members who shared insights, ideas, and critiques.  He went through the plan in detail, which addresses traffic, visibility, marketing/advertising, signage, parking, food trucks, the budget, events, and event coordinator.  He said over 15,000 cars travel Route 196, 6,000 on Route 9, and 3,000 on Main Street according to one most recent study.  He indicated the plan is to siphon off more of those 15,000 cars onto Main Street; the key is more parking.  The best solution for now is to ask those businesses downtown to encourage their employees to park further away so others can park closer.  This plan in cooperation with business owners addresses that.  Plans include opening up the view onto Main Street so those traveling by can see great things are happening on Main Street.  We have three or four months to plan and we can do a better job with promotional signage and helping folks navigate onto Main Street.  He said there will be traffic issues no matter what we do, but we can mitigate some of those issues, but there is no way to solve all of them.  We can slow down traffic in the residential areas with speed bumps, but there were issues with traffic going too fast prior to the closure, so speed bumps may solve an existing long-term issue and may not be just temporary in that case.   He mentioned the Yarmouth Clam Festival had been cancelled, Bath cancelled their festival, so our events coordinator could bring some of those folks into Lisbon with the right marketing strategy.  He said we are fortunate in that we have an adequate existing marketing budget already.  We have the space to have a good time and with our focus on digital ads, we have an opportunity to develop our brand to promote events like a farmer's market, classic car show, music, or craft beer festival.  We can push those digital ads out based specific strategies or geography and identify what is working or not working.   He said we could repackage existing streams of funding that have already been allocated; we are talking about pulling these all together.  Under the Maine Entrepreneurs and Innovators Program, we can offer umbrella liability insurance along with reducing vendor fees to make it more accessible for vendors, so we have listened and responded in a positive way.  
COUNCILOR COMMENTS:  Councilor Albert pointed out that policing parking spots would not solve the problem, because some and not all enforcement can lead to heartburn. Self-policing can help by trying to get individuals who work down there to understand where they need to park, but most of them know.  However, we can educate people as they roll into a spot.  Most business owners can help with that as well because they are not afraid to talk to people.   He said he hopes people understand that an effort is being made from this side as well to try to hear what those concerns are and then address those concerns based upon fact. 
Mr. Richardson said most people, if they understand what the right thing to do is, they will work towards doing the right thing if they can.  The Maine Downtown Center has just launched a new initiative, the Main Street Fellows AmeriCorps Program, which places a fellow in four Main Street communities.  He said Lisbon would be proposing this person come here to help us develop collaborative marketing campaigns for businesses.  This person could develop, in a fun way, something to educate people who park in front of a laundromat, for instance, that one should leave that space in front of the laundromat open for those carrying loads to that business; fun messaging can really make an impact.           
Councilor Larochelle said he would have a hard time voting for it because many business owners have called him to talk about this.  He suggested doing a presentation and inviting all the business owners to the table to discuss how we resolve all the problems.  He said he would like to have them hear the plan first, then listen to them, and if half a dozen of them have concerns, then we should address their concerns.  He said we have to take care of our businesses in town.  He said usually business owners are telling him the town is not doing a very good job, but we could try to win them over. 
Mr. Richardson said although a valid point, we did that in September, shared 85% of this plan at that time, and shared Scenario's A and B with them, emailed 85 individuals in Lisbon a request for input (that's 98% of the businesses), and solicited public responses from Facebook and our website, so not sure we can improve upon that.   He said he has always been in favor of more public input, but we are going to run out of time.  He cautioned the Council could be looking for a perfect solution without time to implement it.  He said this plan is a good solution right now, although also being sympathetic, it is a direct result of indirect conversations we have had with the people downtown in those businesses and some of it was done in a public meeting in a contentious environment. The zoom meeting on the 21st demonstrated there were people out there who did not want to have a productive conversation; the instinct is good, but will it get us to a better solution.       
Councilor Albert said tough decisions are made every day and this is a tough one, but if we stretch this out it could create more animosity and not everyone will like any one solution. 
Councilor Fellows thanked Mr. Richardson for his efforts and for reminding the Council how many times we have reached out to folks.  He said the question on the floor is whether the Moxie Plaza Closure Plan is adequate and not about whether we are doing Scenario A or B.  He said if you look at this objectively, this plan is adequate to move forward at this point to try to help those businesses downtown this year.  He said if it is not right, then tell us this November.  Mr. Richardson said the question is whether this plan addresses those key issues; however, the plan is as close as we can get. 
Councilor Larochelle mentioned he was concerned we had not reached out to all those businesses.  Most business owners have very little time and would not reach out by attending a nonproductive zoom meeting; it would be very difficult to find a shop owner concerned about their livelihood participating in that type of format.  He indicated those participating the loudest on zoom were not residents. If the town feels we have communicated and have heard from every one of those businesses and does have a pulse on where we can actually improve upon their businesses, then it will rest there with his concerns about that.    
Councilor Ganong said he was one of those Councilors who did not vote for Scenario A, but now that the Council has approved Scenario A we need to move forward to see that it gets executed in the best way possible and addresses all the concerns brought forward.   He explained there were two key pieces that he will be looking at: 1) when we close off Main Street as traffic goes by there will be visual site to those businesses, and 2) labeling parking spaces (Booker Street lot and the Worumbo lot).  He said if we do those right and people know they can park there, that should address a lot of concerns.  Mr. Richardson said the plan does include signage.  Councilor Albert suggested signage for the crosswalk at the Rusty Lantern so visitors could cross there to ensure a safe passage across Route 196.  He said there is even a nice sidewalk to the Rusty Lantern and it is not far to walk to get downtown.   
PUBLIC COMMENTS:  Christy Pomerleau emailed asking, "How many business owners does Council need to hear from to change their mind about closing Main Street. If the majority of businesses on Main Street are opposed to closure, what is the reason the Council has decided to move forward with the closure?"  
Councilor Ward replied it is 50/50 in that regard and there is no definitive one way or the other.
Laura Ingerson emailed, "First off, I one hundred percent support all the businesses on Main Street as all of them, they support me.  I want us all to be able to make it another year.  How is the town helping us all? How will the businesses that thrive by drive-by traffic and visibility thrive with it closed?  I as a business owner can say that our emails as a business owner are going unheard.  I suggest that each business owner receive one vote on how to move forward and let the businesses vote one vote per business, which would be fair to move forward.  Please do not let the fate of our concerns and how to work not be heard.  Let us decide what will all help each other, rather than provide favoritism and divide our small town.  Also, will the town provide financial assistance to the business with the closures or was the grant just for the town office and not for the businesses." 
Councilor Ward explained that Lisbon has a Council form of government and does listen to feedback.  This would not be a one-business vote.  He said he has responded to each email, and if it seemed short, to please accept his apologies.  He indicated there was a two-day flurry of emails for something that appeared on the agenda.  He explained the grant was for municipal resources and the issue here is that there were a couple of different sources, one for Moxie Center from the Maine Downtown Network and the other the COVID Relief Grant, which is the piece she is referring to and mixing into her question.  He said we could reach out to her with an explanation.                 
VOTE (2021-34) Councilor Albert, seconded by Councilor Fellows moved to approve the Main Street Moxie Plaza 2021 Plan and funding for the same as follows: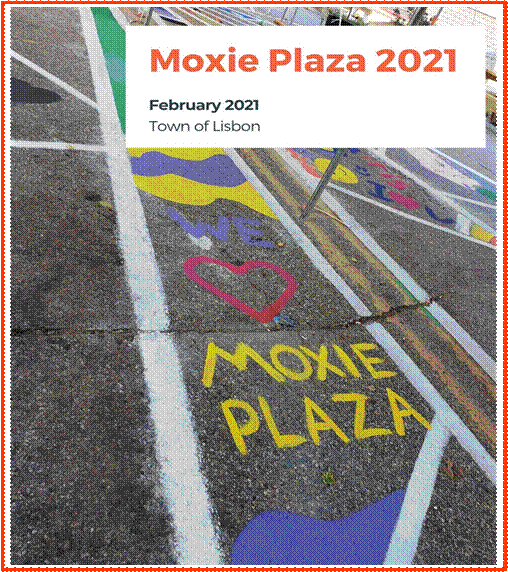 Executive Summary
Moxie Plaza 2021 offers opportunities to create a safe outdoor space for the community to gather between June 18th and September 6th. Moxie Plaza 2021 is part of a 2021 Summer Event Series that will invite visitors to discover local businesses and all that Lisbon has to offer. This plan summarizes general improvements in the Lisbon Falls Village Area and design upgrades at Moxie Plaza to enhance aesthetic appearance, programming, events, traffic management, and coordination staffing for the Main Street closure.
Design Overview        PAGE 2
More Public Parking  PAGE 3
     +/- 35 new parking spaces will be available for local employees and visitors at the Worumbo site, Davis Street, and Union Street, leaving on street parking and municipal lot parking available for visitors and customers.
Directional Wayfinding Signage        PAGE 4
     14 permanent, branded signs will be installed at key points along Route 196 guiding visitors to Village areas
Promotional Business Signage & Visibility and Aesthetic Improvements                PAGE 5
   Strategically placed banners at Main & Route 196 with business logos will invite visitors.
   Visitors will have open sight lines into Main Street by replacing the Road Closed sign at Union with a 4-way stop and eliminating the visual barrier at Route 196; the traffic barrier blocks will be painted to create public art.
Traffic Management  PAGE 6
   Explore traffic signal at Route 196 and School Street.
   Slow down "cut through" traffic on side streets used as detours around closure by installing speed bumps at Rte 196 access to Municipal parking lot between Mason Hall and Hair Loft; and Union, Maple, High, School and Wing Streets.
Tentative Event Calendar      PAGE 7
   Create frequent activities, energy, and attractions at Main Street, Grazi Square, and Worumbo during the day and on weekends, including farmers markets, classic car cruises, a craft beer festival, food trucks, health and wellness, crafts, art vendors and activities, Library children's programming, music, and more.
   Establish a simple, inexpensive vendor approval process to host pop-ups and events
Summer Event Coordinator   PAGE 8
    Hire a point person using allocated Moxie Coordinator funding to design, manage, and market events
Marketing       PAGE 9
   Support business-led effort to create branding assets that businesses can use to promote activities and to support advertising purchases.
Advertising     PAGE 10
    Create a targeted advertising campaign featuring business-led branding assets via digital ads, social media, and print.
Budget             PAGE 11
   Moxie Plaza 2021 will be implemented with a mix of grant funds, existing Economic and Community Development Department funds, previously allocated Covid-19 funds, and minor expenditures for long-term traffic management assets.
Design Overview
Design improvements from last year respond to community feedback:
<![if !supportLists]>Ø <![endif]>Business promotional signage at gateways from Rte 196 and Union Street
<![if !supportLists]>Ø <![endif]>Wayfinding signage to help visitors navigate to businesses and new parking areas
<![if !supportLists]>Ø <![endif]>Temporary 4-way stop at Union (pending DOT approval)
<![if !supportLists]>Ø <![endif]>Open visuals into Main Street from Route 196 and Union Street
<![if !supportLists]>Ø <![endif]>Dedicated food truck spot at top of Moxie Plaza